WE MAKE & DELIVER A
MONTHLY BOX OF

TREATS.
treat & chew service
THE FRESHEST
DOG TREATS ON THE PLANET!
Starting From $10
WE MAKE & DELIVER A MONTHLY BOX OF

TREATS.
We know every dog's needs are different. So we let you choose a box that fits your priorities.
$40/m

$21/m

$23/m

$23/m

$10/m

$12/m

$12/m
After your first box, we will start learning what your dog preferences and sensitivies. We will work with you on this. We will figure out your problems together and customize your dog's box
Our experienced dog nutritionists will learn about your dog and guide you towards a customized fresh dog box.
Text our experts 858-348-5954
We made this box for your dog with "food is medicine" in mind. We handmake different treats and chews every 4 weeks. We use roughly 6-7 lbs of quality fresh meat and seafood. At one low price, you get everything in the Treat Only Box and the Chew Only Box.
$40 and free shipping for Wellness Members

Got a hyper little beast at home? Let us help you save your shoes with our Super Chews. Add as many Super Chews as you want to any box we make! Just like our treats, we make a fresh new Super Chew every 4 weeks. You decide how many shoes you want to save!
$10 each
100% meat, 100% real food, made in small batches in San Diego, delivered fresh directly to you at an affordable price.
Our plans are simple, straightforward and designed to serve your dog's changing needs.
Only Month to Month
You're not tied to a contract. No fees, no commitment, skip a month or cancel anytime. Stay a member for as long as you want. You'll only be charged for what you've received.
Free shipping for Wellness Members
Your box renews every four weeks. Each month we change the menu and you count on fresh food made to order delivered to your doorstep. There are no middlemen. Shipping directly to you means we can give you higher quality food for less.
100% Satisfaction
No hassle customer service, we will make it right. Period. Set preferences or allergy restrictions. We are available via text 7 days week 858-348-5954
Here is what we do for your dog!
Every 4 weeks, we make a new combo of food to help meet your dog's nutritional needs. We hand-select and air-dry a variety of proteins in small batches from locally sourced meats so your dog can enjoy them while they're still fresh.
Who are we?
We're health conscious dog lovers that believe food is medicine. That we should focus on preventing disease instead of treating it. We're based in sunny San Diego, California and are on a mission to change the way we feed our dogs.
We don't just make awesome dog treats, we are fun too!
Raw vs. Air-dried : Compared in a Real Treat & Chew Box
Get the benefits of raw and the convenience of dried food. The treats & chews ↓ below were on the menu recently!
Experience the service!
Let us help you take better care of your dog. We will customize your subscription for your dog as we get to know them better. Our boxes are built with their nutritional needs and your busy life in mind — we do the work for you so you have more time to spend with your dog! Whether you're a experienced dog parent or just getting started with your pup, you'll be happy that you found us! Feeding real food couldn't be easier.
Your dog has a food allergy?
We got you! Throughout the year we have over 40 treats and chews we rotate through and we are constantly adding new items to our menu. We'll automatically replace anything your pup is sensitive to with a fresh item in our inventory.
---
Let us know your dog's allergies at the check-out or DM us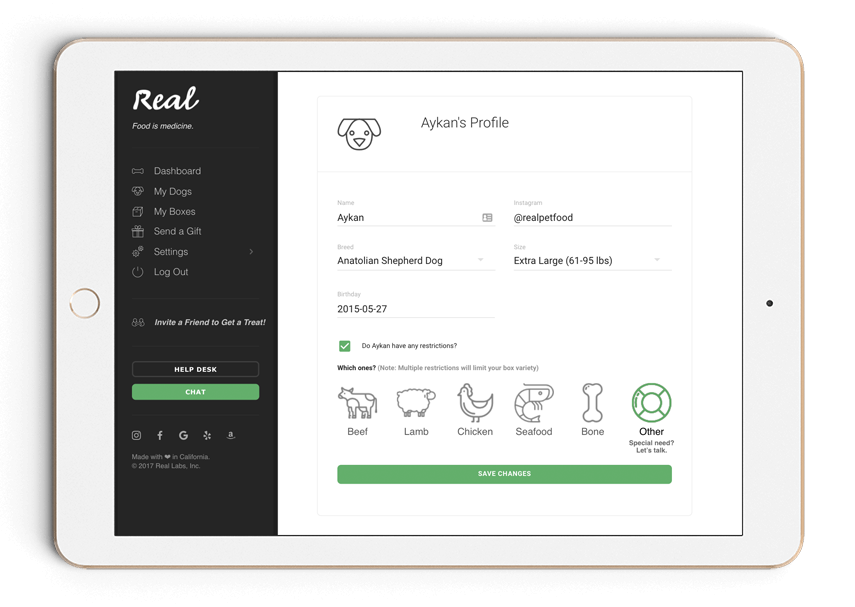 Something your dog didn't like?
Just like you, dog's have preferences too. It's all good. With our diverse selection of muscle and organ meats, seafood and chews, your pup won't miss out.
---
We'll replace anything your dog doesn't like for free and you'll never see those items in your dog's box again.
Going on vacation?
Whether your dog comes with you or not, we'll ship your box to wherever your pup is. Manage your dog's food from anywhere on any device.
---
Manage your dog's food from anywhere on any device.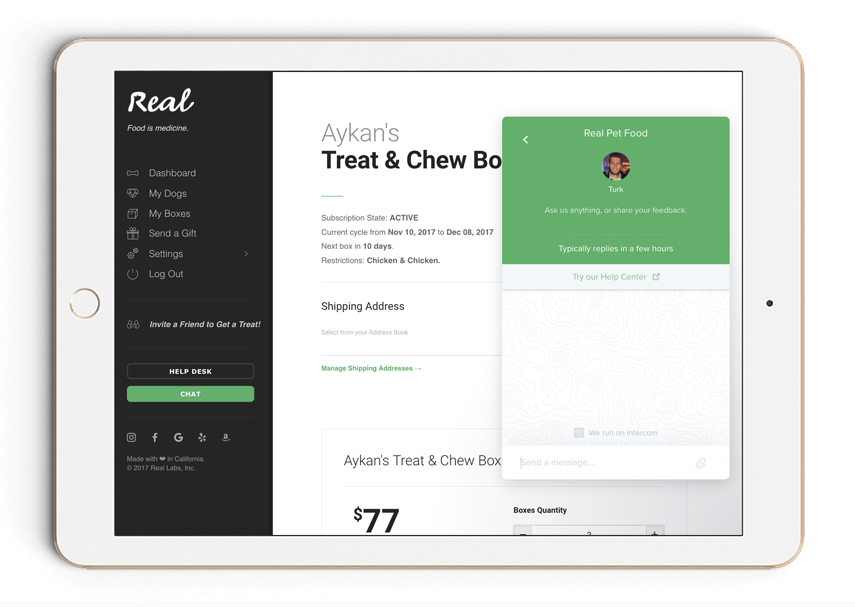 Have you ever talked to your dog food company?
Neither have we! We believe you should be able to talk to whoever is making your dog's food, and now, you can talk to us. Chat with us anytime from your account or via text message.
---
Chat with us anytime from your account or via text message.
It's an investment for your dog's life.
We will take good care of you. See what dogs and other dog owners think about us — Let us help you feed your dog real food, too! Don't take our word for it, read what people are saying about us.
Follow @realdogbox