WE MAKE & DELIVER A
MONTHLY BOX OF

TREATS.
CANCER
CELL GROWTH THAT IS UNCONTROLLABLE AND IMPEDES VITAL ORGAN AND TISSUE FUNCTION.
MOST COMMON CANINE CANCERS
Hemangiosarcoma
Mast cell tumors
Lymphoma
Osteosarcoma
Bladder cancer
Brain cancer
Quamous cell carcinomas
---
It's a word that strikes fear, worry, and concern. next question is usually "what next?" when it comes to cancer, most people know common treatments and prognoses. but biologically, do you know what cancer is?
1/2 of canine cancer is treatable if caught early
But not all cancers are symptomatic.
THE BIOLOGY & HISTORY OF CANINE CANCER
Did your (Great) grandparents have dogs with cancer?
Kibble, as opposed to meaty table scraps, was introduced about 150 years ago. More research can help us understand any increase in canine cancer, but it's certainly a major modern talking point - one we can act on.
Do dogs have the same type of cancer as humans?
Many of the cancers our canine companions experience are very similar to those humans experience, which isn't the case for other members of the animal kingdom.
Have dogs' diets evolved over time to mimic our own?
Our diet includes carbohydrates and sugars. Historically, dogs consumed very few carbs or starches. Today's kibble diets bring that number to 46-74% carbohydrates.
CARBS VS CARCASSES
Dogs are hardwired to consume meat.
Canines have ZERO nutritional requirements for carbohydrates.

Carbs fuel cancer cell growth, and vets recommend dogs already fighting cancer minimize this energy source.

Raw, fresh food avoids cancer-causing aflatoxins found in grains (i.e. kibble).
REAL CHEWS
Introduce your dog to fresh, raw goodness
Light Chew
Good source of nutrients and healthy, easy snacks. Awkward shapes also engage your dog and encourages him to use his brain while chewing.
Medium Chew
Fun and appealing to stronger chewers. You can play fetch with these or let your dog enjoy as an evening snack after dinner.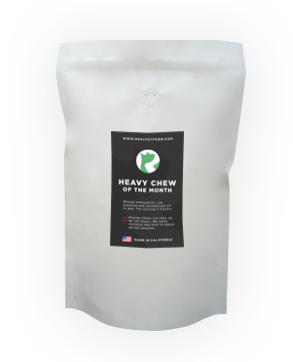 Heavy Chew
A durable option designed to challenge your pup more than light or medium chews. May last more than 1 chew session.
Super Chew
Built to withstand multiple chew sessions of at least 30 minutes each. Provides a jaw workout and mental challenge all in one.
Diversity in Every Box
Never processed
Small Batch
Gently Air dried
Single Ingredient
Zero Fillers
Canine Appropriate
Made in San Diego
What does my membership look like?
Month to month - only pay for what you receive

No annual contracts

Ability to text customer service

Ability to customize your dog's box for any allergies

Ability to communicate with a pet nutrition specialist

Free delivery for Members

Satisfaction guaranteed
A monthly box of chews will clean your dog's teeth