WE MAKE & DELIVER A
MONTHLY BOX OF

TREATS.
We failed to protect our dog from the most painful health epidemic of the century
Did you know that cancer is the leading cause of death in dogs over the age of 10? The good news is, this stat can be reversed with a simple change in diet — real food is what dogs have always chosen, until we began forcing them to eat the same processed food we were eating.
---
Cancer in dogs has gotten to be pretty common, especially in older dogs. Fifty percent of dogs over the age of 10 develop cancer at some point in their lifetime
Cancer is the leading cause of death in 47% of dogs, especially dogs over the age of ten.
Diet plays the most significant role in the development of cancer with low quality fats, too much salt and too many carbohydrates (which is sugar). Tumors love carbs and sugars! A dog with a compromised immune system because they are fed sugary, salty inferior kibble can make the dog more susceptible to disease. On average, dry dog food contains between 46 and 74% carbohydrates, and since we know carbs break down into sugar, we can put the two together and understand that sugar is what feeds the cancer.
Decrease your dog's risk of getting cancer by 70 to 90%
Treating and preventing cancer starts with what is in a dog's bowl. A study found that Scottish Terriers fed leafy green or orange/yellow vegetables at least three times a week were up to 70-90% less likely to develop bladder cancer.
Why? This is FRESH food! Adding fresh vegetables to a diet is great, but since dogs aren't designed to digest vegetables unless they are pureed or steamed, replacing fresh veggies with fresh real food will work as well.
Real Dog Box offers fresh, single ingredient air-dried raw treats that make a great addition to the diet! Since Real Dog Box treats are considered fresh food, you can feed them as apart of a meal and also feed as treats without worrying about added sugar, carbs or salt!
Organ Meat
The most highly coveted food by dogs because of their rich nutritional value. Our organ meats include more than just liver, we've got secreting organs that are difficult to source and deliver amazing health benefits.
Muscle Meat
These are lean proteins, thinly sliced and easy to break up for short training sessions or even topping your pup's daily food for a boost of nutrition. You'll see a variety of meats you've never seen before.
Seafood Treats
Whole fish, filleted fish and even green lipped mussels fall into this category. We know dogs cannot naturally produce omega-3s so we make these to help them get their much needed essential fatty acid intake.
Light Chew
Healthy snacking never felt so good. The light chews are a good source of nutrients & make for healthy and easy snacks. Their awkward shapes also encourage your pups to use their brain while chewing.
Medium Chew
Fun and more challenging for bigger and stronger chewers.You can play fetch with these or let your dog enjoy it them as an evening snack while you have dinner.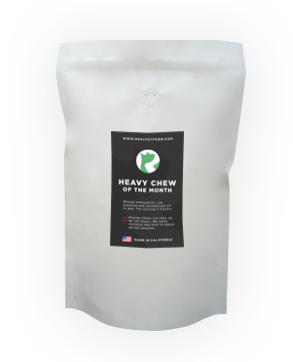 Heavy Chew
Your dog will love working on these chews. Designed to keep your challenge your pup more than our light and medium chews, these heavy chews may last more than 1 chew session. For an even stronger chew, check out our Super Chews.
Experience the service!
Let us help you take better care of your dog. We will customize your subscription for your dog as we get to know them better. Our boxes are built with their nutritional needs and your busy life in mind — we do the work for you so you have more time to spend with your dog! Whether you're a experienced dog parent or just getting started with your pup, you'll be happy that you found us! Feeding real food couldn't be easier.
Your dog has a food allergy?
We got you! Throughout the year we have over 40 treats and chews we rotate through and we are constantly adding new items to our menu. We'll automatically replace anything your pup is sensitive to with a fresh item in our inventory.
---
Let us know your dog's allergies at the check-out or DM us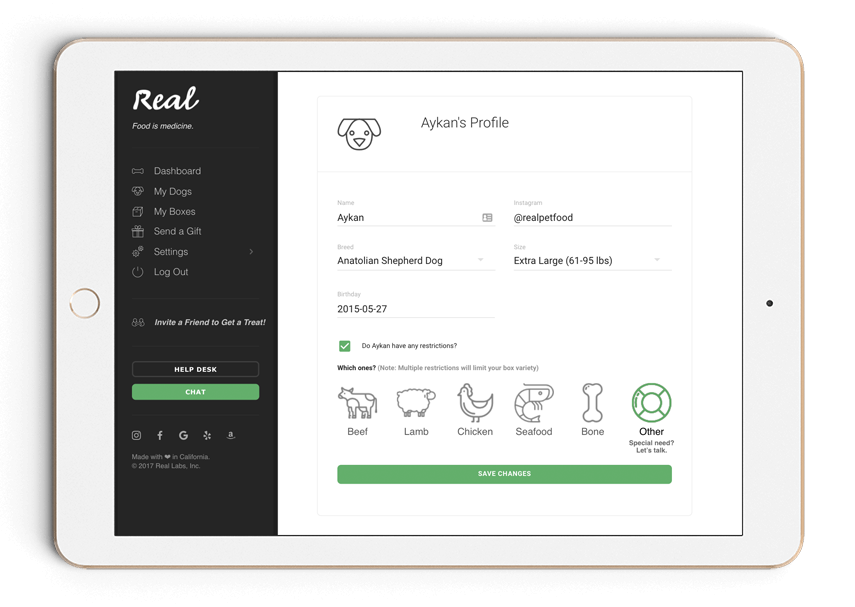 Something your dog didn't like?
Just like you, dog's have preferences too. It's all good. With our diverse selection of muscle and organ meats, seafood and chews, your pup won't miss out.
---
We'll replace anything your dog doesn't like for free and you'll never see those items in your dog's box again.
Going on vacation?
Whether your dog comes with you or not, we'll ship your box to wherever your pup is. Manage your dog's food from anywhere on any device.
---
Manage your dog's food from anywhere on any device.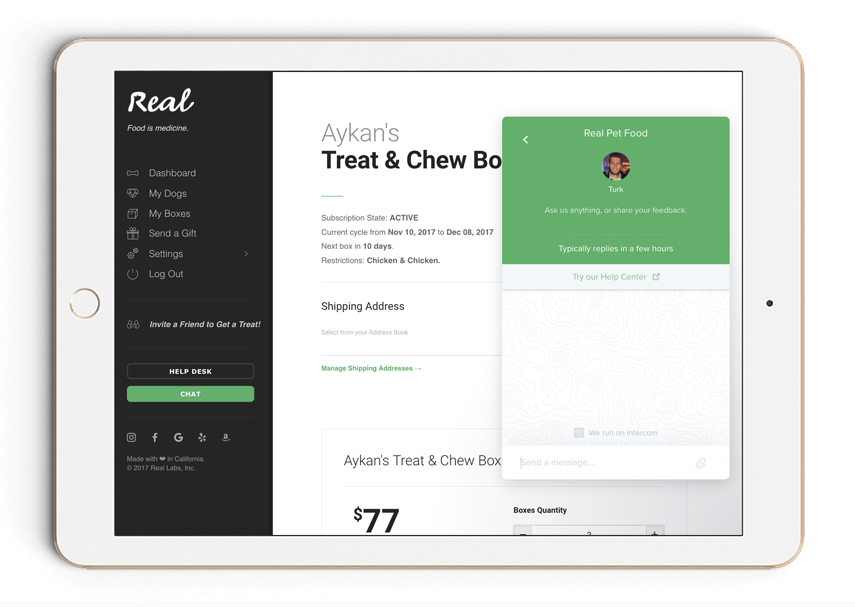 Have you ever talked to your dog food company?
Neither have we! We believe you should be able to talk to whoever is making your dog's food, and now, you can talk to us. Chat with us anytime from your account or via text message.
---
Chat with us anytime from your account or via text message.
Inspried by this book
42 Rules to Fight Dog Cancer is a compilation of real stories, told by real people about their successful battle against dog cancer. The book is rooted in the thought that through the collective knowledge of dog owners everywhere, we will be closer to eradicating this disease.

Filled with concrete tips that you can start using immediately, 100% of the author's proceeds will be donated to dog-related causes.
Also inspired by this documentary
Over 6 hours of groundbreaking information from 50 oncologists, cancer researchers and veterinarians providing innovative insights and practical tools you can implement immediately.

This documentary will provide answers, tools and inspiration to pet parents worldwide who find themselves facing the diagnosis of cancer.
Now it's up to you. You can help fight cancer by feeding fresh food. Will you …
Continue feeding carbohydrate filled kibble that will feed cancer

Pay thousands of dollars between vet visits to try to fight cancer with loads of antibiotics and radiation which will damage healthy cells

Start with what's in your dog's bowl and eliminate any unnecessary carbs, starches, sugar and salt and feed fresh food
Real Dog Box keeps it real with treats and chews that are single ingredient, air-dried, and convenient! For $39 a month and FREE shipping, Real Dog Box sends a different variation of digestible and species appropriate treats and chews each month right to your doorstep to help your dog stay healthy and lean!
Sign up for a Treat and Chew Box today and receive a FREE bag of treats on us!
Solve your dog's obesity problem today
It's an investment for your dog's life.
We will take good care of you. See what dogs and other dog owners think about us — Let us help you feed your dog real food, too! Don't take our word for it, read what people are saying about us.
Follow @realdogbox