WE MAKE & DELIVER A
MONTHLY BOX OF

TREATS.
75% of dogs suffer from periodontal disease in USA
SAVE YOUR DOG'S TEETH
JOIN THOUSANDS OF REAL DOG MEMBERS in the fight against dental disease.
START YOUR CHEW DELIVERY TODAY
We have helped thousands of Real Dog Members get their dog's teeth clean. We want the same for you.
PERIODONTAL DISEASE
Bacteria accumulates between the teeth and the gums, causing infection and inflammation that can lead to detrimental effects ranging from tooth abscesses to secondary complications involving the liver, heart and kidney.
80% of dogs in the U.S. Experience periodontal disease by 2 years of age.
DENTAL CLEANING
DOG TEETH
$500-$3000
cleaning
HUMAN TEETH
$75-$200
cleaning
When fully developed
,
Periodontal disease
is irreversable
PERIODONTAL DISEASE DEVELOPMENT
PLAQUE
Plaque forms as saliva, food, and bacteria meet. If this soft, sticky film is left untreated, it combines with minerals to become hard tartar.
INFLAMED GUMS
Plaque and tartar accumulate. Gums respond with inflammation of blood vessels, swelling and collagen loss.
GINGIVITIS
Bacteria wedge between the gums and teeth (gingival sulcus), causing infection and inflammation
PERIODONTAL DISEASE
Infection below the gum line with secondary complications (tooth abscess; mobile teeth; heart, kidney & liver changes)
"ALL DENTAL TREATS ARE MADE THE SAME."
1
Some treats pack on unintentional calories. Breath freshening treats do NOT carry any nutritional value.
"PROFESSIONAL DENTAL CLEANING ARE EASY AND AFFORDABLE."
2
Professional dental cleanings can involve anesthesia and are expensive (up to $3,000). Not all dogs are behavioral candidates for daily brushing at home.
"WOLVES DON'T EVEN BRUSH THEIR TEETH!"
3
Wolves consume raw, meaty bones that scrape tartar off naturally. Kibble exasperates tartar and plaque buildup .
RAW MEATY CHEWS
Removes 79% of plaque-causing bacteria
(dental chews remove only 70%)
Scrape off tartar
(dental chews remove only 70%)
Freshen breath
(dental chews remove only 70%)
REAL RESULTS

Before & After
We have a subscription with Real Dog Box so we receive 2 boxes of single-ingredient, unprocessed chews each month. I will be honest, I really do not like subscription boxes. But, The Real Dog Box is my one exception. I rely on them for my dog's dental hygiene and anytime I see a bit of plaque build up, I know a Real Dog Box chew will take care of it for me. (plus Moose and Koda are obsessed with their chews)"
@stumps and rump
Diversity in Every Box
Never processed
Small Batch
Gently Air dried
Single Ingredient
Zero Fillers
Canine Appropriate
Made in San Diego
What's in the Chew Only Box?
An entertained dog is a happy dog. Do you need a few minutes? Let us keep them busy. Every month we send 8 to 10 freshly air-dried chews of different strength levels. Our chews will clean your puppy's teeth, give their jaws some much needed exercise and keep them mentally stimulated - it's like a piece of everlasting bubble gum!
Light Chew
Healthy snacking never felt so good. The light chews are a good source of nutrients & make for healthy and easy snacks. Their awkward shapes also encourage your pup to use their brain while chewing.
Medium Chew
Fun and more challenging for bigger and stronger chewers. You can play fetch with these or let your dog enjoy it these as an evening snack while you enjoy dinner.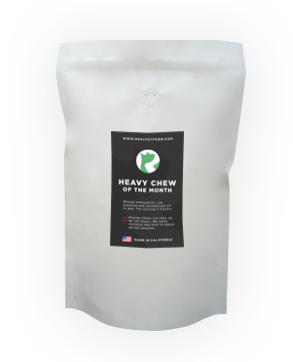 Heavy Chew
Your dog will love working on these chews. Designed to challenge your pup more that our light and medium chews, these heavy chews may last more than 1 chew session.. For an even stronger chew, check out our Super Chews.
What makes Real Dog Box Chews so different?
Our members rave about the transformation their dog's teeth have gone through.
Diversity in every box

Zero filler, additives, chemicals, dyes or colors

Single Ingredient

Unprocessed

Gently air-dried

Small batch

Canine appropriate chews
Sourced in California, made in San Diego

An entertained dog is a happy dog. Do you need a few mins? Let us keep them busy. Every month we send 8 to 10 freshly air-dried chews of different strength levels. Our chews will clean your pup's teeth and keep them mentally stimulated, like an everlasting lollipop.
$23 and free shipping
What does my membership look like?
Month to month - only pay for what you receive

No annual contracts

Ability to text customer service

Ability to customize your dog's box for any allergies

Ability to communicate with a pet nutrition specialist

Free delivery

Satisfaction guaranteed
A monthly box of chews will clean your dog's teeth
What are your super chews?
Just like our treats, our super chews rotate each month. They're built to last multiple chew sessions of at least 30 minutes each. This means your dog gets a jaw workout and mental challenge all in one.
Super chew
Some of our super chews include pig trotters, lamb femurs and spiral pizzles.